We are an On Demand Fully Automated Fuel Delivery Service under the brand name KAFMAR FUELS.
Our Mobile Diesel Delivery solution provides refuelling services for static or heavy earthmoving equipment and large commercial vehicles. Diesel is delivered in PESO compliant Bowsers that ensures safety, zero wastage and swift fulfilment.
We are privileged and humbled to deliver our services to Agriculturists, Hospitals, Construction sites, Hotels, Industries, Manufacturing & Mining Companies, Schools, Industries, Hotels, Travel Companies, Logistics/Transporter, Private Bus Stand, Truck owners/Dumpers, Mining companies, Ferryboats, Gen-set Owners
KAFMAR FUELS' diesel door delivery helps reduce congestion on the road and it helps keep all parties happy by saving them money and time. Our bowsers are PESO (Petroleum and Explosive Safety Organisation) approved and certified to transport fuel safely and efficiently. Our convenient solution ensures timely diesel delivery with the assurance of safety, zero wastage and easy-to-use technology to place orders anytime, anywhere. We help you save costs on large scale storage and handling of diesel and help you shift to safer, environment friendly system.
CALL NOW: 88050 02156 / 88050 02157
   
Office
Camilson Bhavan, Birondi, Benaulim Goa
Phone: +91 88050 02156
Email: email@kafmar.com
   
Office Hours
Monday-Saturday 9am–6pm IST
Sunday Closed
What is the minimum quantity I can order?
We deliver as little as 100 litres.
What is the maximum quantity I can order?
In accordance with the PESO norms, you can order as per your requirements. There is no defined quantity limit set as of now.
How soon will I receive my order?
We promise to deliver within 8 working hours.
Do you deliver fuel to small vehicles?
No, our doorstep diesel delivery services can currently be utilised only for static and heavy earthmoving equipment, agricultural machinery and large commercial vehicles including buses, trucks and tempos.
As per the PESO guidelines, what is covered under the Diesel Door Delivery (DDD) scheme?
As per the Petroleum, Explosives and Safety Organisation (PESO), door to door delivery of High-Speed Diesel (HSD) is permitted only for stationary equipment, machinery, and heavy equipment. These may be in specific customer sites, dedicated customer Industrial zones, equipment operating in mines, construction sites, agricultural machinery, diesel generators, and other machinery.
What are your operational hours?
Operational hours are 24×7 but fuel will be delivered between sunrise to sunset only.
What's the price for diesel ordered?
Diesel is delivered at the day's running price including taxes applicable in the state
How can we pay?
We accept cash payment, card payment on site or online payment in advance via net banking or payment link.
What if there is an excess order?
We charge only for the diesel supplied to you – with accurate flowmeters you can be assured of the right quantity of fuel being delivered to you.
What are the delivery charges?
Full bowser order (6000 litres) at one location, will entitle you to FREE delivery.
Minimum Rs.500/- charge for all other orders.
Delivery charge will be calculated as per distance from warehouse and intimated on order placement.
Our Target Market
As per the Petroleum, Explosives and Safety Organisation (PESO), door to door delivery of High-Speed Diesel (HSD) is permitted only for stationary equipment, machinery, and heavy equipment.
Agriculture & Engineering

For heavy machinery, farm and earth moving equipment.

Generators
For hotels, residential complexes and businesses with installed generators.

Industries & Fleets

Fuel for your fleet, factory machinery and generators.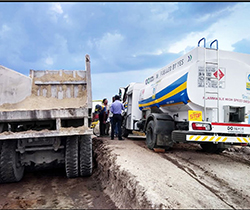 Mining Industry

For trucks, earth moving and transporting heavy machinery.